Last October I faced my decades-old fear of the ocean by simply getting wet. You know, the up to your knees kind of wet. I had reached a point in my life where I realized that only I could redefine what getting older meant to me and I was determined not to lead a life filled with "I remember when I was able to …" stories.
Today, I can swim in the ocean. Although, to some, my steps may seem infantile, to me they are monumental.
In July, before I went swimming in the ocean, I was invited by Everyday California to go kayaking. In the ocean.
My friend, Anna, and I were fitted with life jackets and helmets and headed to Everyday California's classroom—the shores of La Jolla, one of the most beautiful beachfront communities in Southern California.
My mind raced with questions. Had I agreed to enter the ocean by kayak? Why did I turn down the included wetsuit? What if we capsized?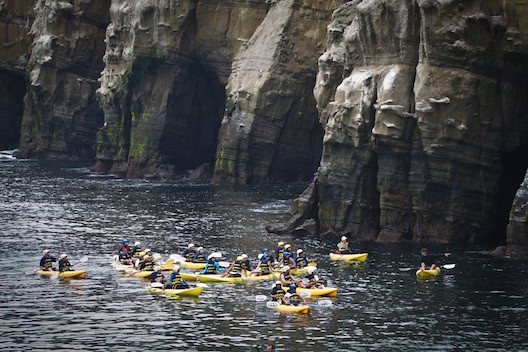 The sun broke through the clouds just as we approached as if commanding me to leave my dark thoughts behind. Along with the sun came a wave of resolve; I no longer wanted to be a spectator in my own life.
The guides gathered the group and issued a series of instructions.
Moments later we were knee deep in water.
Anna and I were partners in a tandem kayak. She took the lead position – the power spot – in the bow while I happily nestled myself into the stern. Fortunately, we managed to get in sync right away, gliding through the emerald water and speculating how long it would take to reach our destination: the sea lion-draped caves.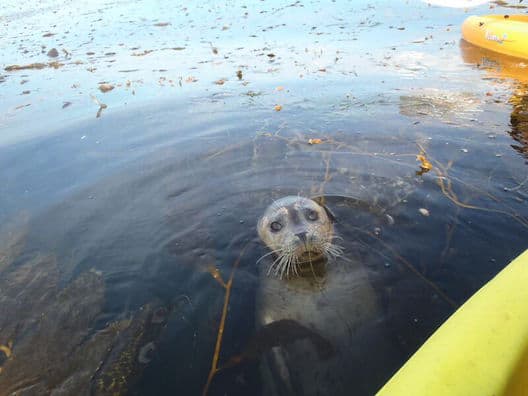 The closer we got to the caves the more I felt at ease. I was engaged in "doing," too busy to be caught up in all the what-ifs.
And isn't that why we are here – to be engaged in this thing called living?
While awaiting our turn to enter the caves, Anna and I spotted the trademark orange of several Garibaldi's swimming below. We marveled over the antics of the enormous sea lions basking in the sun. They are so much fun to watch.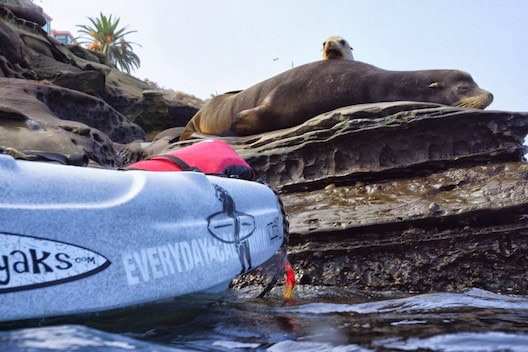 We were the last pair to tour the caves. As the guide swam our kayak into the mouth of the cave, we were hit with an aroma I will not soon forget – a reminder that these blubbery creatures permanently inhabit the cliffs overhead.
As we paddled back to the beach, I realized how much fun it was to be on the water in a boat powered in part by me. My mind swirled back to days gone by, days when I had taught canoeing. How beautiful to be reclaiming a part of me that had been lying dormant for far too long.
The guides gathered us, releasing us one by one to paddle toward shore. Anna and I rode a decent size wave in, capsizing the kayak in the process. Thankfully, at that point, we had the benefit of the sand beneath our feet.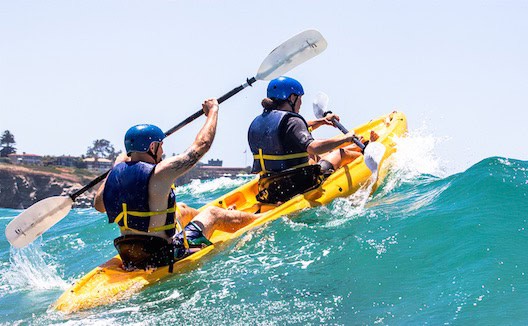 What a great experience it had been. It was so great that I was inspired to take the paddleboard my husband gave me last May out into the ocean. I may not be riding enormous waves – yet – but it was another first step of what I trust will one day end up to be many.
As it turns out, the Everyday California slogan, A State of Mind, is one I have taken to heart. I live in Southern California, a place that some people only dream about visiting. I intend to embrace a state of mind that inspires me to experience it daily.
Today my fear rides shotgun. Maybe one day I will manage to wrestle it into the backseat, maybe even the trunk. Better yet, perhaps there will come a time when fear will only be briefly glimpsed in the side view mirror. But, just as learning to swim in the ocean began by getting wet, having fear ride beside me rather than in the driver seat is a great step in the right direction.
Midlife is in full swing, and I refuse to sit on the beach, watching everyone else have all the fun.